I totally was.
(I feel like I need to whisper that…hahah)
Not because I'm Scrooge, really.
But more, that I really didn't want to be bothered with it. It seemed like much work. Getting the tree, getting the decorations, getting the Christmas spirit. The whole thing. And couple that with moving cross country the week after Christmas and you have a big old Scrooge called me.
That was until my 15 year old daughter sat next to me in my minivan as we were returning with more boxes and asked if we could get a tree. She kept asking and I kept ignoring but finally just listened.
Please, mom? I think it would still be nice.
It would still be nice.
Out of her mouth.
Sometimes Christmas is just hard, isn't it? It seems that oftentimes Christmas rolls right around when there's really tough stuff. I remember the first Christmas as a single mom not even sure I could make it through – every ornament seemed heavy – like my heart. And yet, my friends, we make it through. We inhale deep and exhale and do what we need to do.
Because we love them.
So today, today we bought a tree.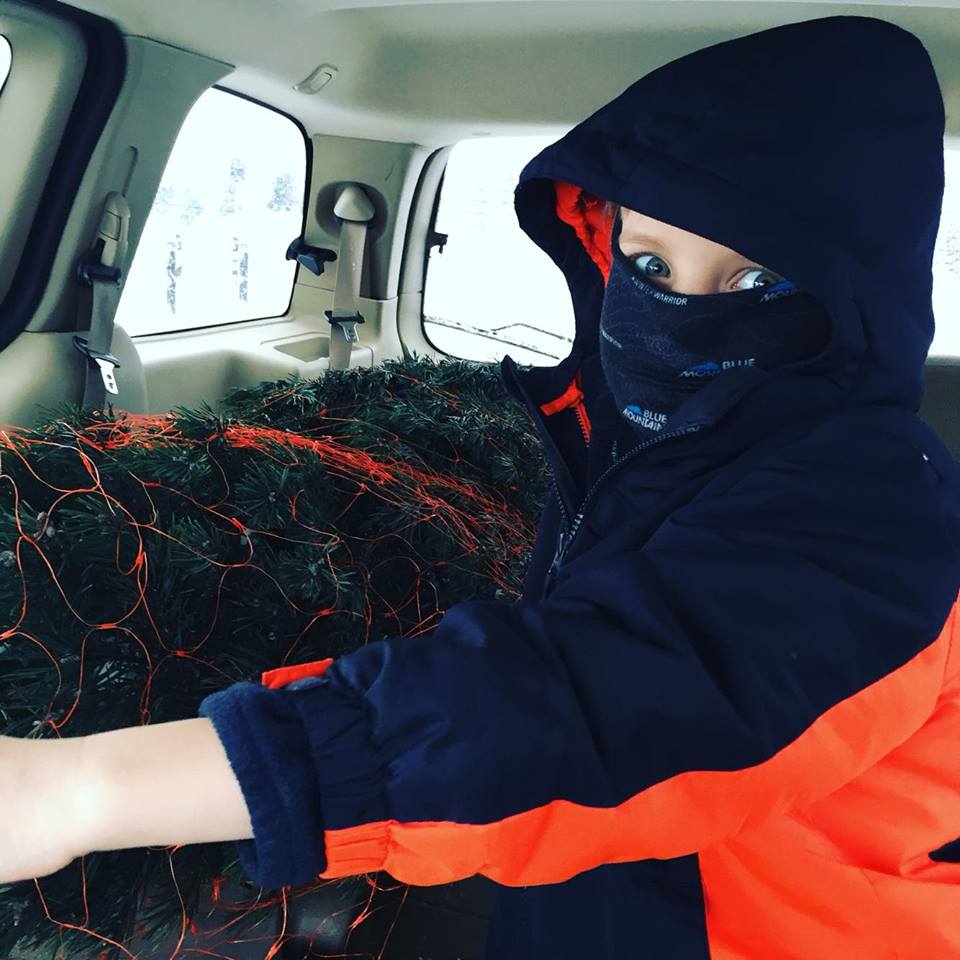 A little Charlie Brown scrawny tree. And a new tree stand because in my Konmari cleaning purge this summer I got rid of the old one. And as I stood at the amazing tree farm known as Home Depot I asked the man to save me the tree cut from the bottom of the tree.
And then the tears filled my eyes.
My Grace was right.
Christmas doesn't have to be perfect to matter.
Christmas doesn't have to look like all the other Christmases that we've celebrated. Or what Pinterest says or Facebook or what everyone else's looks like.
What matters, beyond the religious reasons my family celebrates, is the simple act of showing up and creating memories. Simple simple simple. Not all this crazy complicated stuff that I used to think that Christmas meant.
You know what?
This year, because I had no pressures and I was going through everything I let the kids decorate without stress. And, my dear friends, it was so simple that it was perfect. There's that tree next to an almost empty book case and garland on the stairs.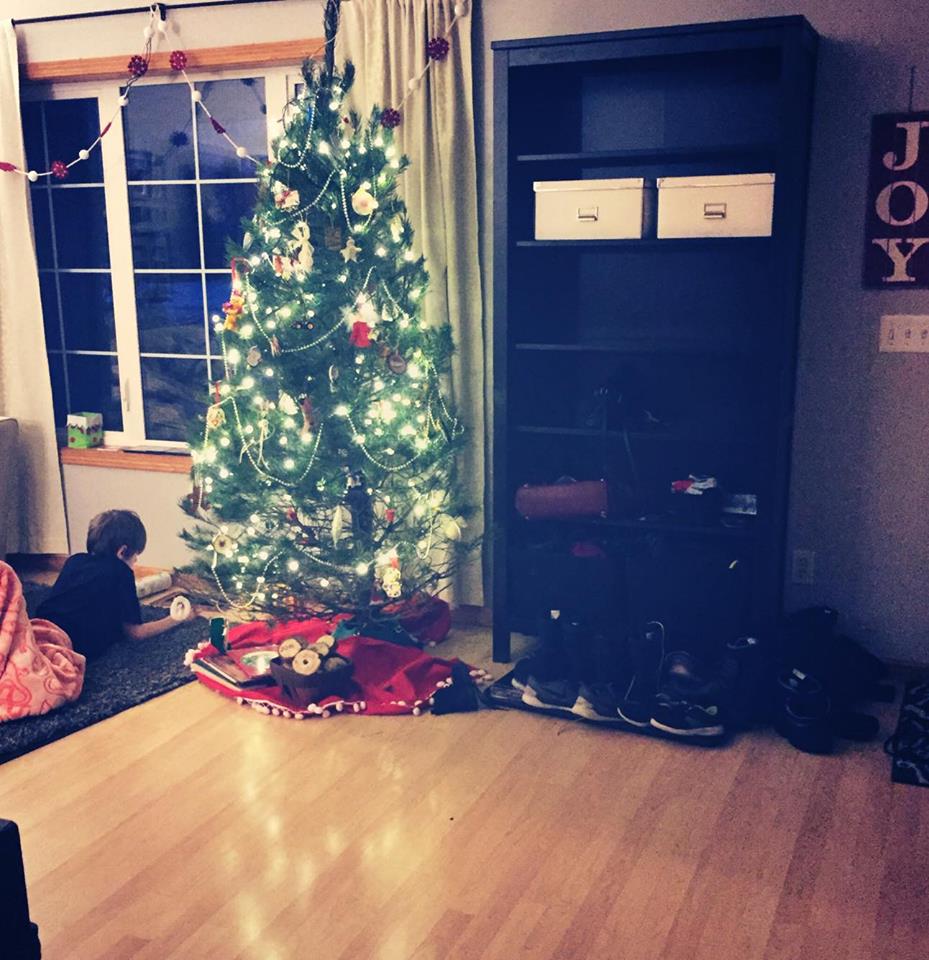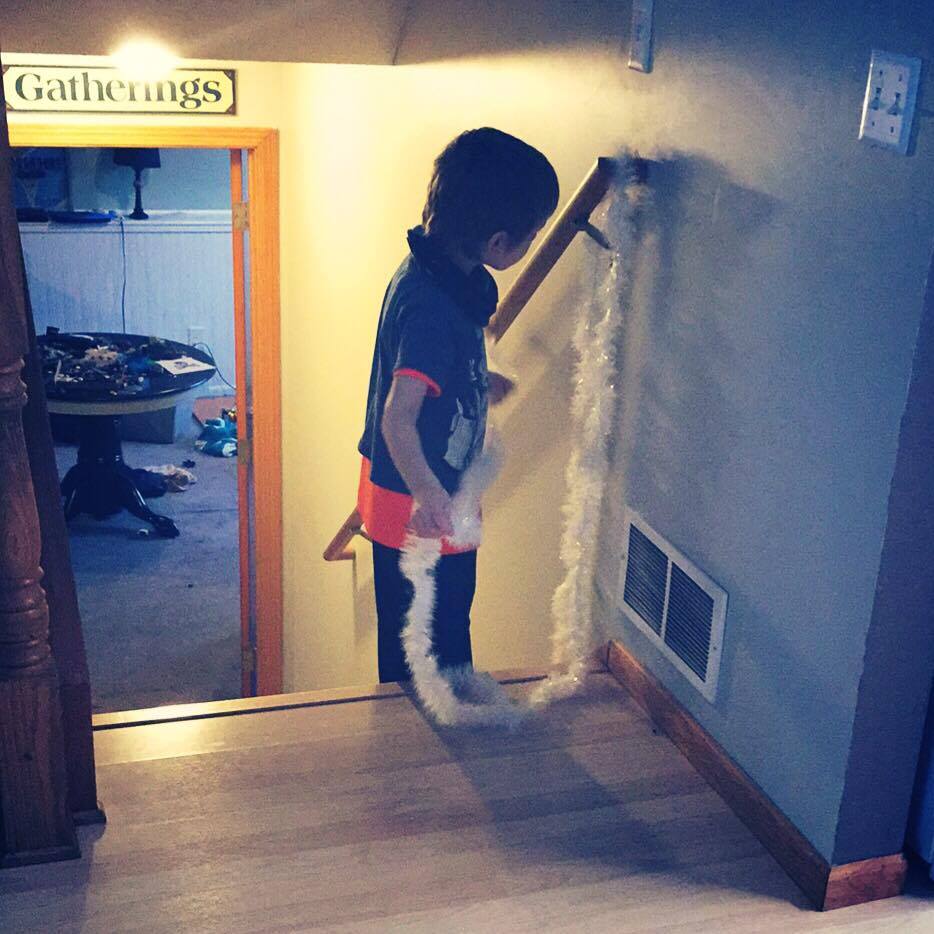 So I know that some of you have heavy hearts and the last thing you want to do is Christmas. I know it's hard. I know it unearths stuff. I know.
But can I encourage you to just do a small thing?
Maybe it's a tree. Or some lights. Or something. Because our kids don't need things to be perfect. They just really need us to show up and celebrate the magic that is so easily squashed as adults. They need those simple magical memories of garland or eggnog or stockings.
You can do this.
Boxes around. Imperfect life. Crazy chaos.
What matters is the memory.
~Rachel
Read The Brave Art of Motherhood to learn about the raw strength of getting through, even when you want to call it quits.
ps. Those are my tree trunk "Cuts" from the bottom of my tree. I am so THANKFUL for my Grace. Could you imagine if I had missed this year? Simple. And since this post, I've added two more for our collection of tree trunk memories.