Tonight I sat on my couch, put my head in my hands, felt a tear fall and told my kids to all go to bed. Immediately. With no dessert, no books read, no nothing.
Go. To. Bed. And no more talking.
I just had enough, my friends, enough.
I don't even know what it was, really about tonight versus other nights. I don't know if I was tired or worn or the fact that the clean house was getting constantly destroyed or that oh I don't know.  I don't know if it is this time of year and a week of clouds and money being tight or me being tired. I should have realized it when I woke and my six year old barricaded his room and wrote a note telling his brothers to keep out because they were annoying him already at 7:20am.  I could probably put money on the fighting between my kids as part, but well, sometimes I'm like King Solomon and have brilliant solutions. But, not tonight, because tonight I just had enough. And in those moments sitting on my couch with the tears falling and the aggravation still there I just want to have a moment to step back and breathe and get my bearings.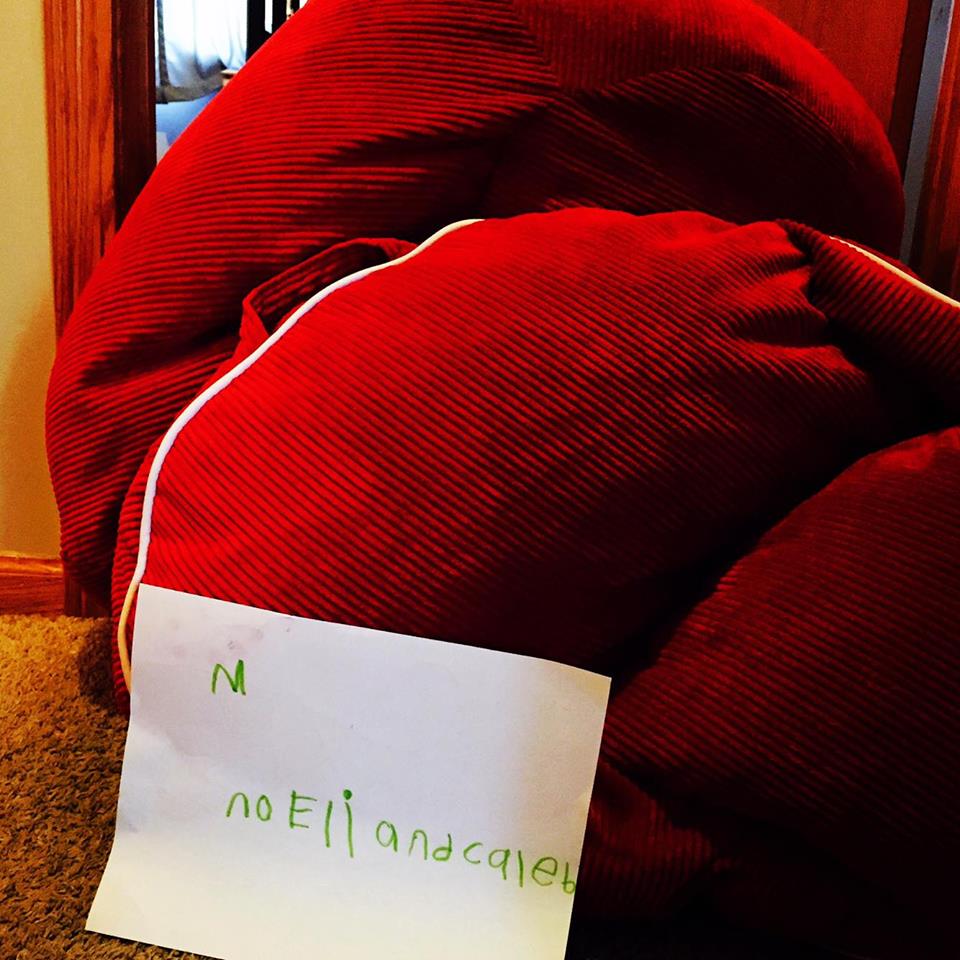 But inevitably there will be another issue – another cry for my name – and no moments.
So tonight, I sent them to bed, sat on my couch and put my headphones in and turned on Hulu and started watching old episodes of Survivor. Because, of course, just like laundry – which needs to be switched – I am behind.  Maybe it's that out-of-breath always feeling behind part that gets me. Or maybe it's the part of me that cringes when there is a mess. Or the part of me that feels irritated when I find wrappers and dishes left in the family room – because then I'm like – and who do they think will clean it?
So I start to get down on myself a bit. Like I'm not doing enough or I should have more patience and then that just all rolls into the whole package of frustration. That's what it is – frustration, really.
And then friends, as I sat on my couch and stewed – I'll be honest that is what it was – my six year old Samuel came to me. I had words for him.
I told you to go to bed.
And he didn't listen to that. Not one bit.
Instead he walked over to me, put his arms around me and said I love you mommy.
Yes, you read that right. He stopped what he was doing, saw his exasperated had enough and so not perfect mom and stopped what he was doing and told me he loved me. With a hug.
Feel free to cry.
Because I totally did.
How in the world did he know to tell me that then? How did he love me in that moment – the bear of a mom that I was and pushed to my breaking point? How?
I just felt like I didn't deserve it, you know.
Like I should ALWAYS have it all together and never snap.
Well, the truth is that sometimes we all will have days where we've had enough. And sometimes it isn't over the really big things but is rather an accumulation of lint like sticky small things that when there are too many push us to our end of patience.
Those bad moments and bad days and overwhelming days and frustrating nights don't make us bad moms. They don't mean our kids will be scarred because we hypothetically messed up. I didn't mess up – I just was human. The kitchen was clean and the dishes done and the family room vacuumed and the kids sent to bed because they were all crabby. And I just needed space – space to breathe and be. And they still loved me.
Your kids still love you – even if they don't tell you – on those days when you have had enough.
You don't have to have perfect days to be enough. You don't have to have perfect meals to be enough. You don't have to have the perfect body to be enough. You don't have to have kids who always get along – can you even imagine – to be enough. You just don't.
Mothering in the moments of angst and crazy and when you've had it is enough. Loving kids and grocery shopping and working hard and refolding blankets and doing laundry and firing up the grill and washing floors and stopping disputes and scrubbing peanut butter out of the floor – it's all enough. There never was a gold star badge of motherhood glory to put under your facebook profile for the perfect mom.
There is you.
You right now. The mom who might not feel loved or appreciated or if you're like me like you messed up. And that you is a person who should put her head on her pillow tonight and breathe deep and think that today you accomplished great things. Yes, great things.
You mothered.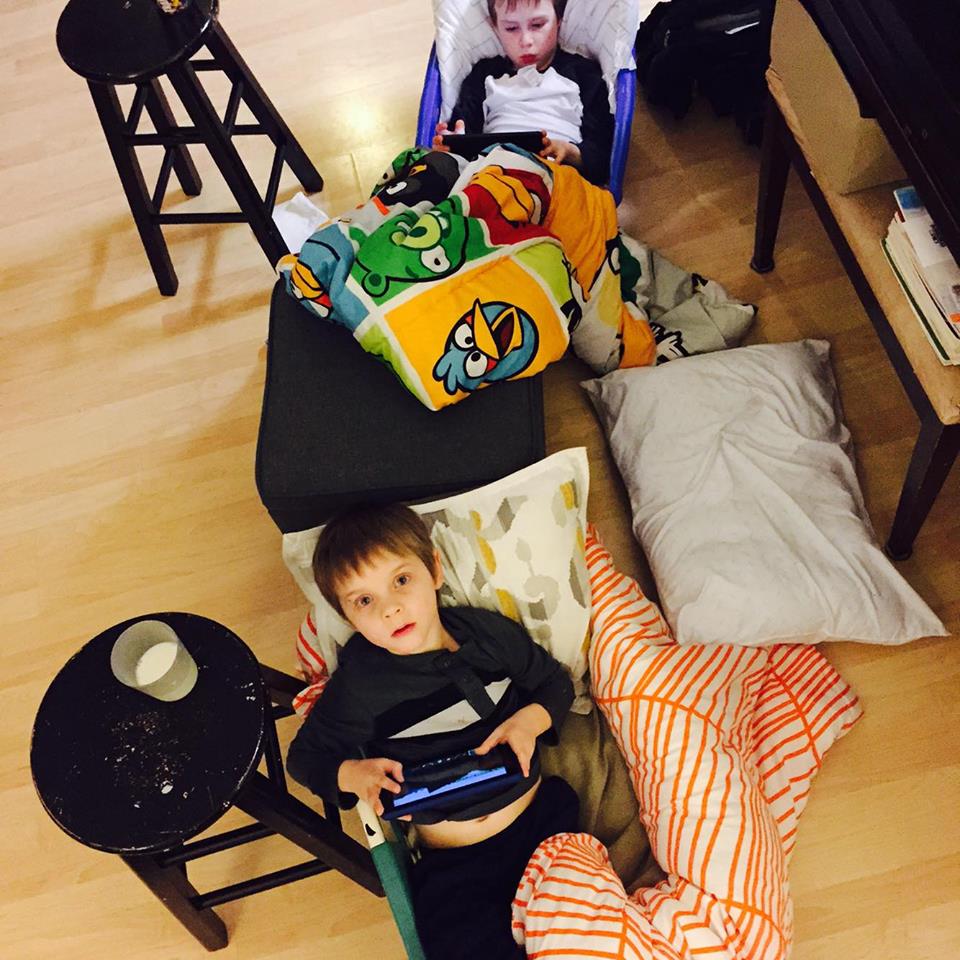 Through good and bad and crazy and hard and insert whatever variable you'd like. Do you see that? Understand it? Mothering isn't about perfection but is very much often about days like today too. So before you decide that today was a fail or that you're not enough or are way too hard on yourself I want you to stop and remember that you mothered. I want that to be what you write on your mirror in your bathroom – I mothered. I want you to remember that.
Not the other stuff or that it didn't match your paradigm. But rather that, well, you did it.
Just like I did.
That is powerful.
Be proud, my friend. Be proud.
I guess I just wanted my bad had enough day to be a reminder to you all that none of us have it together all the time. None of us. We may look like we do from the outside but we're all in this together – learning to mother day after day after day. And you know what?
I think we're all doing a pretty good job.
You mothered today.
Thank you for that.
~Rachel
#findingjoy