I love my kids. Fiercely.
I fight for my kids. Every single day.
Maybe it doesn't look like fighting for them. Maybe they don't have cool notes in their lunch boxes and fancy cut up snacks and organic juice pouches and me sitting in the classroom helping with extra projects. Maybe it looks like me staying up until 1 am working and getting up at 5:45 am exhausted but plopping my feet over the side of my bed and stumbling down the stairs waiting for my coffee to brew.
Maybe it doesn't look like what I thought supermom would look like. Somehow I always thought that doing it all wouldn't look like really doing it all. I seemed to have thought that being a good mom meant that beyond everything else that needed to be done that I would be able to keep up with everything that this external world was deciding defined motherhood.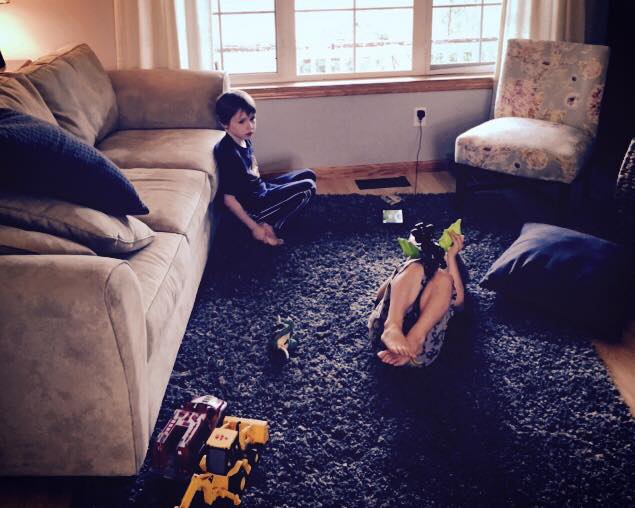 You know what I mean, right?
You know, you fight too.
Maybe it's you sitting in front of google typing in symptoms and researching and learning and watching and praying. Maybe it's you walking through Target and adding peanut butter and luncheon meat and hoping there's a bit extra so that you can get the birthday present for the kid's party your ten year old is invited to. Maybe it's you making that cool project on Pinterest and worrying deep down that others will judge you thinking you think you're better but the truth is making those projects is like a bit of therapy for your soul and a break.
Maybe, maybe just maybe we need to all stop deciding what makes one mom better than another. Maybe we need to stop basing motherhood success on our Facebook status updates and Pins completed and state of our living room when someone stops by unexpectedly.
Because the truth is – I normally apologize for my life.
I apologize for the living room having school books on the floor and shoes kicked away from the mat and apple peels on the kitchen counter and a jacket on the floor and forget that we live here. I apologize that I can't volunteer at school and forget that I'm driving in a car across the country to speak to pay for the food on my table. I apologize and hide the parts of me that don't seem to match all the things that I think that we're supposed to be doing.
And in that apologizing I miss the profound.
I miss it. I miss the beauty in this:
I have a feeling you do too.
I have a feeling that often when you brush off all the things you're doing or apologize for not seeming to do enough that you are missing everything that are doing. I have a feeling that those nights when your head hits the pillow and you think you've messed up again that you forgot to see what you did right.
I think supermom ideals taints our worth.
There isn't a barometer that can ever measure what you're doing. And there isn't one perfect and molded mother journey that we should all be fitting in and striving for. There's just a whole bunch of us out there loving our kids. And fighting for our kids.
And what is normal for me may look abnormal to you. What is normal to you won't match your neighbor. And what we think qualifies one being better than another isn't determined on outer worth at all.
Being a mom isn't about being perfect. And and and – it is not about apologizing for our lives when we feel like we don't have our lives wrapped and tied with a perfect bow.
Life is messy.
Motherhood is incredibly messy.  And tiring. And exhausting to the bone. And requires the patience of a saint and more wisdom than I ever thought I could have. But that stuff? We brush it away and forget the strength in that and apologize for our hair in pony tails and yoga pants and that we're late.
Sometimes I forget how beautiful it is to love my children. I forget to see how when we love them and put their interest in front of ours that that is in fact motherhood.
All the sleepless nights. All the rocking moments. All the stuff. All of it.
No one knows your kids like you do.
You know what's best. You know how you have to fight for them. You know what puts food on your table. You know what makes you happy. You know how to give for them. You know the words to tell them when they're afraid. You know how to count to ten again and again. You know the ins and outs of them.
Motherhood, and our motherhood story isn't something that needs the words of apology in front of it for not seeming to have it together.
Instead instead what if we let go of the supermom ideal that can creep into the definition of motherhood and simply decided to love each other and respect each other for their part in the journey. And for loving their kids. The ranking and qualifying and measuring up robs us of today and of our happiness.
My life? Well, as I always joke and as many of you have read it really doesn't belong on Hallmark but should rather be the feature on Bravo. And that's okay. Do you know why?
I am a supermom to my kids.
They love me for me.
The messed up imperfect mom who fights for them and loves them fiercely.
So remember that. Remember that when you want to start comparing your awesome to another mom's awesome. Maybe it all looks different, but at the core, at the heart, it's about loving our kids. Giving to them.
Do you know why I stopped apologizing for my imperfect life?
Because, well, it's my life.
And instead of apologizing for my perceived lack of perfection I've decided to be proud.
And that's what I want for you too. Be proud.
Yes, yes – be proud of you. Be proud.
~Rachel
ps. Thanks to a sweet reader Karen for writing to me asking me to write about the ideas of super moms and all the qualifiers that we put on ourselves as moms.