I've noticed something about social media.
In some ways it's as if this layer of kindness was stripped away and the fact that we're answering on the computer or on our phones has given permission for responses to made without as much tact or kindness or understanding. There's this icky form of judgment, in way.
I know. I understand.
I write about motherhood and because I put myself out there I'm also out there for the world to comment on. I make mistakes, my kids aren't perfect and at no point am I going to put the cloak of perfection over my life because that, well that adds to the layers of angst that so many moms face today.
So there's this dichotomy in the social world as moms.
Do we really risk being real? Do we risk stating how we feel?
What if we're bashed for being us?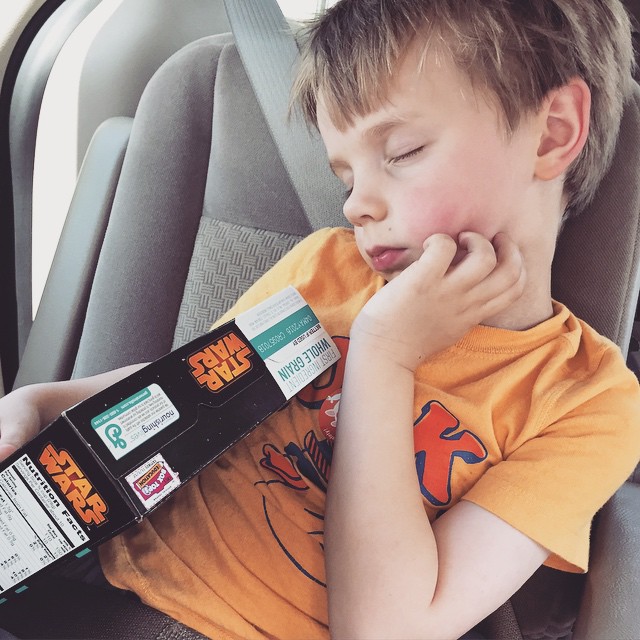 For instance, I put that picture up of my almost six year old son who has Celiac Disease holding a box of Star Wars cereal that was gluten free asleep in the car. And in this picture my wonderful precocious son had removed the shoulder strap from his seatbelt and tucked it in behind him. This happened sometime on the way home from Target as I was driving. Before I left I made sure that he was buckled in, that the belt was right and we didn't move until everything was tight.
I drove home. Didn't text. Didn't use my phone. Obeyed all the laws. Didn't speed. Pulled in my driveway and looked back and saw him sleeping with that cereal – the cereal that was an amazing thing for him to get because he can never eat gluten – and in that moment decided to take a picture to share how the little things really really are the big things.
I almost didn't put it up because in that picture I noticed that he moved that shoulder strap. I toyed with moving it around so that it would be better, but that wasn't real. The truth was that even though I have rules and guidelines he moved it. That five year old of mine made a decision on that drive where I followed all the rules and for some reason moved that strap even though we followed the rules to start.
Most people responded with joy and happiness and all because of the cereal and what it meant for Samuel. Because, remember, that was the point of the post. It was about how the little things in life matter so much and a post of gratitude and thanks. And yet there were other responses, which I was expecting, regarding the seatbelt. Many were kind – gentle reminders for me to fix it and even links to awesome five point seats for older kids.  And others, well, others were kind of cruel. They weren't spoken with kindness, but with a condescending spirit for me as a mom. Questioning why I cared so much about Celiac Disease and not the seatbelt and so forth.
They were comments made without grace or kindness or seeing the picture for what it was. They were comments made without thinking that perhaps I do care about his seatbelt and that I did make sure he was buckled correctly. They were comments made forgetting that he was an almost six year old boy, who even though he knows the rules about car safety, disobeyed the rules in the moment and then fell asleep holding the cereal box.
I wanted to retort back with the truth about that moment.
I wanted to so badly.
But I realized that that isn't the issue here. And retorting back doesn't solve anything.
So I opted to be kind or to ignore or to thank those who reminded me of seatbelt safety. Because that matters too – we all want to protect our kids and take care of them. I appreciate that about our community.
The issue is the judging of motherhood skills and love and wisdom by others.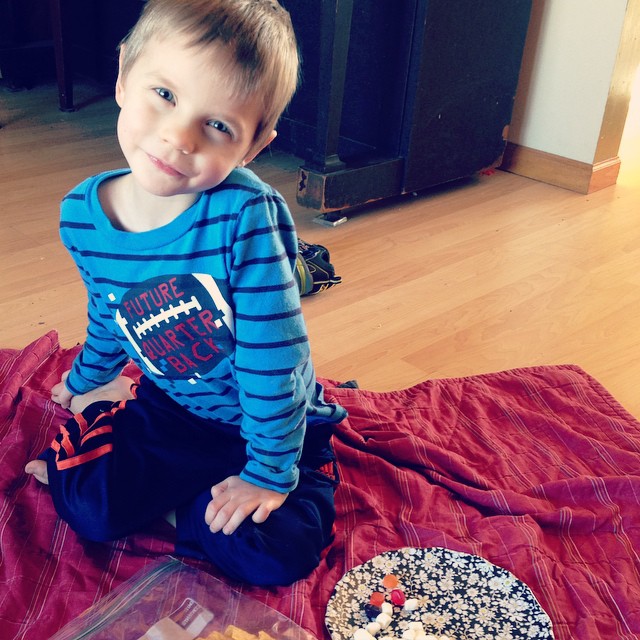 I have no problems with us encouraging others. In fact, I am grateful for encouragement and kindness and reminders. But I don't want us judging other moms harshly when we don't know the story. I want to be a voice for moms for realness and how we are stronger when we see each other as moms in the trenches together.
I want us all to remember that pause that we all have.
The pause before we hit enter on a response. The pause before we judge another mom we see at the store. The pause we have before we retort back. The pause we have before we compare. The pause we have before we talk about another mom with someone else. The pause we have before we allow another's opinion to define ourself. The pause we have before every single action.
Is the response we are given meant to encourage?
Or is it meant to judge or tear down?
Because there are so many ways of sharing information with others. Private messaging, with kind words, with the idea of linking arms and being stronger. When we allow social media to strip away that pause, that buffer space in our responses, then we are no longer creating community but are instead losing the realness that we can share with each other.
I want us to be real.
And part of that wanting us to be real is, in a way, me being willing to share bits of my life with you. And it's in me being willing to write about the responsibility we all have in social media. We have a responsibility to use it wisely and to not forget that every person on the screen that writes a reply is a real person on the other side. Another mom or dad on their journey sharing their lives with you.
That is a gift.
It's a conversation. A place to seek to understand. To share joys and sorrows and to learn.
Let's guard that space.
So friends, moms and dads in the trenches with me, let's work together to remember that pause.
To love and encourage and support each other.
Because at the end of our days that is what is going to matter most – it will be the seeing of each other for who they are even behind the digital screen.
We're real. Not perfect.
~Rachel
ps. I'm hunting down a new five point harness seat for Samuel and would like to thank those who reminded me of it for your encouragement.