First of all, if you haven't started the Konmari method, no worries about needing to start. This is about my experience, especially since so many people see all these methods and its easy to think that it's a fad. But for me, it's become a lifestyle and that's why I'm sharing – the perspective of really really living this way.
So let's start with this: I used to have more things than I knew what to do with.
I had an excuse for all of them – I might need it someday or I don't know if I can afford it or I'll get to cleaning it up tomorrow or whatever you can think of. And then, one day, I had enough. That was three years ago.
Three years ago I bought myself a Christmas present.
It wasn't coffee, chocolate, wine, new sweatpants, tickets to a movie, a trip anywhere awesome, but was, instead a book. And that book changed my life. It was the life changing magic of tidying up by Marie Kondo. Now, that same book is a best-seller and she has an amazing Netflix show. But back then – it was fairly new and I decided to try.
So this is the truth of living in the Konmari way for three years. Not three weeks, not three months, but three years.
Originally, I thought it was a book on cleaning and getting rid of clutter.
But in reality, it really was a book on finding joy, happiness and margin in one's life. Think of margin as the white space on a piece of paper. Teachers and authors and we all know not to write to the edge, but rather to keep that space there. It lets us breathe. Well, the issue with clutter and stuff is that we unknowingly fill in all the margin in our lives and then instead of letting go of stuff, we try to organize in the confines of too much stuff and starve out our margin.
More crates, more totes, more organizing books.
What we really need is to remove stuff from our lives.
Well, stuff that doesn't, as Marie says, spark joy.
Enter the Konmari book.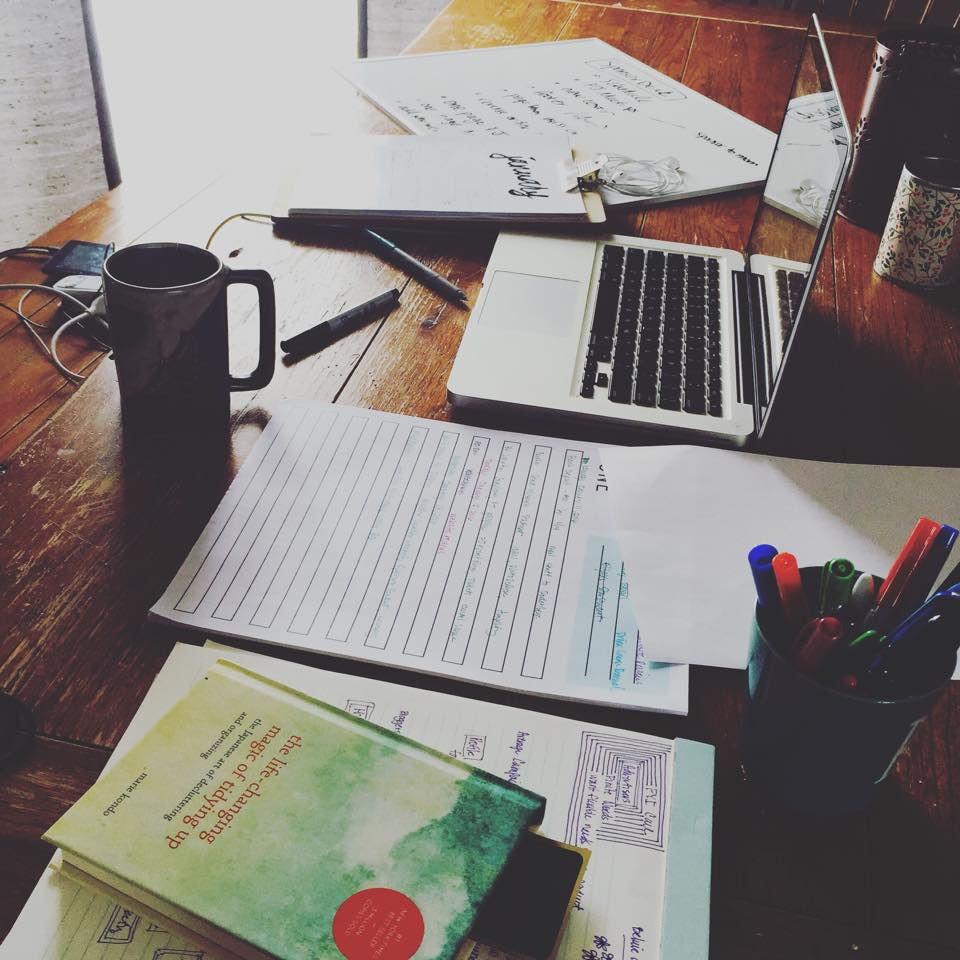 Yes, the book was about what to get rid of and strategies for clearing out a house, but more than that, what I discovered was that this book taught me about the art of letting go, not just tidying. Instead of a checklist for cleaning I ended up looking at all the patterns in my life that I followed over and over. Remember the excuses from the top?
Those excuses about getting rid of stuff sucked away at my life's margin.
So here I am three years later still absolutely loving the book and referencing it in my own book The Brave Art of Motherhood. In fact, it really is one of those spaces that changed my thinking and cleared out the clutter. Many times you'll read articles and posts about starting these tidying challenges, but you don't know what happens months later or even years. Do they keep at it? What is the long-term result?
This is what I learned. So if you're thinking of starting and want to hear from someone who actually lives it – this is it. 🙂
Clearing clutter and getting rid of stuff in your house, especially with this method, is not a six week process. For me, it took almost an entire year to go through my house of stuff collected for fifteen years. Don't expect it to be a sprint, but rather, if you really focus on this method it is a marathon.
Enlist friends. I could not have made some of the critical decisions about what to keep and what to throw without friends' discerning eyes. They didn't have the depth of emotional attachments like I did and could ask critical questions like are you sure that matters? and if you could choose one which is the most important?
If you have children the process WILL take longer. The younger the kids, the less emotional attachments they've developed for the stuff in your house. But make sure to involve them as well -teaching them to sever the bind to things at a young age is a priceless gift.
Expect to do micro-Konmari purging sessions twice a year. This is critical. I don't think I'll ever have the gigantic purge again if I continue to focus and maintain. However, it's been 25 months since I moved cross-country (which really forced the purge of almost 75% of my possessions) but since then, you guessed it, the stuff has slowly creeped back in and the margin lessening. This winter, three years after the initial Konmari session I once again pulled all my clothes out and whittled out all the things I accumulated.
Most stuff you will never miss. In fact, I cannot think of many things that I actually miss that I got rid of. Most stuff I've completely forgotten about. And the stuff that I think about, most of the time, it's just for a split-second I remember it and then forget about it.
You must make it a goal to not simply bag things up and move it to the garage. Now, I have monthly Goodwill visits or dump runs. It's not really letting go if it sits in your garage or hallway. Follow through and really get rid of it.
Sometimes it is better to throw versus donate. Here's why: when I was in Haiti one of the biggest struggles mission teams dealt with was getting bags and bags and bags of clothes that were not wearable. If you are going to donate clothes (or things) I learned that it is critical to think would I wear this? or would I want my kids wearing it? before sending it on. Donating items that should be thrown creates more work for those in need receiving it AND gives them the oftentimes fiscal need of disposing of those items.
Some of the ideas I follow – like folding of my shirts facing up in the drawers (life-changing) and some I don't – like rolling my socks and putting in my drawer that way. I love how it looks, but I just don't have time to maintain. Use the book as a guide, not as a law. Although after this year's clothing purge I found myself going back to the roll/fold of socks because it really does make me smile.
I never ever look at my cart in Target the same or all the "great" deals on clearance. I've learned, after having margin, that every single item that I purchase, no matter how awesome a deal, has to find a spot in my house. Everything.
As crazy as it might sound when you ask each item if it sparks joy in your life, well, it works. I think that you're not really "talking" to your things, but are rather going through this mental exercise of realizing what things you are keeping just because or because of attachments or are linked with excuses (when I lose weight or I can't afford to rebuy it). It is amazing how the stuff creates mental attachments, but once you begin to sever the need to save things you create space for doing things.
Those are my ten main lessons.
Konmari, or this margin maintaining philosophy, has become a lifestyle for me. I've realized I am a better mom with less stuff. But, more than that, I've come to realize that having less frees me up to spend more time with my family, friends and taking care of myself. And this time comes with the freedom of guilt of things I should be cleaning or organizing. You need to find your balance, your joy. That's the beauty of her program. It's not a keep thirteen shirts, four pants and ten mugs program. It's what works for your life.
I created a six week starter course for adopting the Konmari method in your life. Go HERE to join. But, you need to remember, there are no six week courses that check up on you on week seven. Therefore, my philosophy is to adopt this a lifestyle way of being. To help with that, I also have a Facebook Group called 52 Weeks Live Your Brave that dedicated to learning, maintaining, and dealing with the ups and downs of living this way as well as changing your life. Click HERE to join that.
Would I change anything?
No. Well, honestly, I probably would have gotten rid of even more stuff that first purge.
~Rachel
Go Here to get my book The Brave Art of Motherhood