Last week, on Facebook, I posted this simple and fun question for our awesome, and I mean encouraging real mom kind of awesome,  Finding Joy Community
Simple, right? But look at the comments and likes. You all were awesome. Suggestion after suggestion after suggestion for the first official Finding Joy teeshirt came in. And I was blown away and filled with gratitude. For real. Not only did you encourage me with your words, but you gave me tremendous direction.
And now? Now I've got the teeshirt ready. It's made. It's the first limited edition of Finding Joy teeshirts. (That's fun to say – first edition – especially since we're going to create a series of awesome shirts.) So I've got it ready to go and we can get it printed. It's only available for six more days. And this is the only time this edition shirt will be available.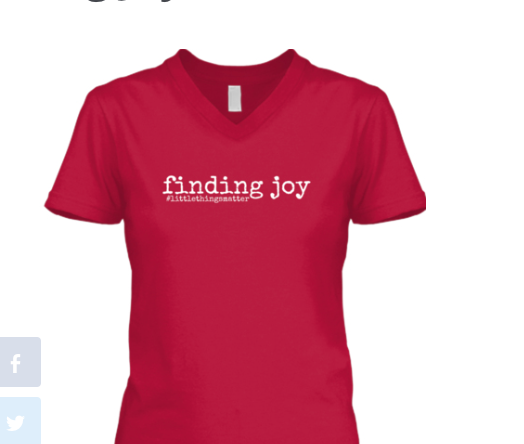 Here's where I need your help.
One. Grab a teeshirt. This will be the only run of this style of teeshirt. I have an amazing list (200+ comments deep) of teeshirt ideas. So if you love the Finding Joy #littlethingsmatter teeshirt now is the time to get it. There are three different cuts and colors available. I happen to be quite partial to this red one. Bold, really.
Here is the link -> Limited edition awesome teeshirt
Two. Help me spread the word about the teeshirt. You guys keep Finding Joy going. For real. Every share, like, comment, email, and all of that makes a difference. It helps create time for me to write, time for me to learn, and time for me to share my passion for motherhood with you all. So from me to you – truly thank you.
Three. Continue being awesome. I know, I know, I know…not about the shirt. But I couldn't help it.
So that's it. Three things. And I think I was going for a record in using the word awesome in this post.
You all mean the world to me. For real.
~Rachel
p.s.  here's a closeup. Because, let's face it, we all need closeups of things sometimes.